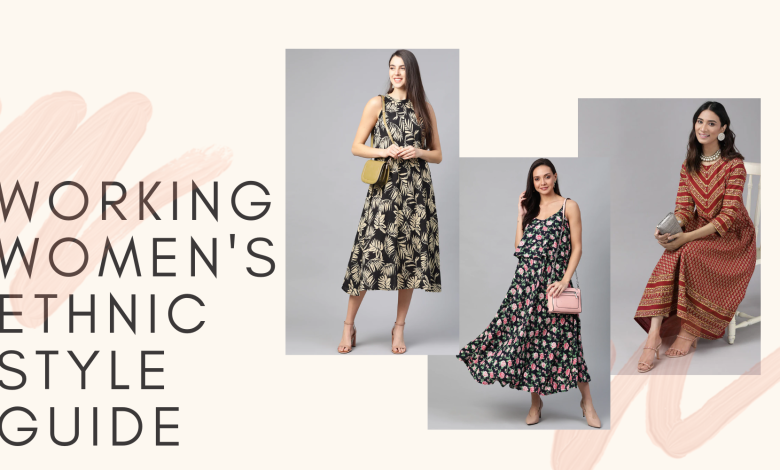 In your professional life, looking nice can improve your confidence and leave your coworkers in awe. For instance, a person's grooming habits and the clothes they wear to the workplace reflect their professionalism, aptitude for success, regard for others, and sense of self-respect. Nowadays, workwear clothes are not limited to shirts and coats. Ethnic wear like pattern-filled ethnic wear skirts, floral anarkali kurta, silk Kurti & cigarette pants, and kurta sets have taken a front seat in workwear fashion. The best thing with ethnic wear is that you will never run out of options. That's because there are numerous styles to choose from.
Ethnic fashion has emerged as one of the biggest forces in the fashion business. As a result, millennial women are pondering the classic fusion of "tradition meets modern". Here are some well-picked recommendations to help you enhance how your appearance in a professional context.
The Ethnic Style Guide for Women in the Workplace
Kurta/Kurti
The way kurtas are viewed now has a trendy twist. The core elements of this style are comfort, convenience, and functionality. As a result, you can wear these adaptable pieces anytime anywhere. They come in a variety of designs and fabrics, long, straight or short, with denim, ethnic pants, or even skirts. With Kurtis, women can combine western and traditional appearances with fondness. The best thing about wearing Kurtis is that they showcase a modern ethnic look without making you uncomfortable. 
Salwar Suit
Women can choose casual, basic salwar suits made of chiffon and georgette. As they nicely envelop the figure and suit formal settings. The popularity of these garments has recently increased. As a result, many new styles of ethnic dresses have been created by designers that incorporate more contemporary elements. For instance, salwar suits can now be worn to formal occasions and events too.
Palazzo 
Palazzos can be your saviours if salwars are too old school for you. Invest in these functional bottoms that are in style for all the right reasons. With palazzos, you get to wear something conventional from the typical business attire. They are cosy and airy, making it possible to work long hours comfortably. With these bold items, you may liven up the bland ensemble of a typical salwar kameez. Moreover, it also allows you to diversify your wardrobe while also spending wisely on everyday necessities.
Sarees
Sarees have a classic allure that will never lose their appeal. Nothing beats a simple saree, no matter how many wedding dresses you own. However, a linen saree is the best option when it comes to wearing a saree to work. It quickly became your favourite work outfit because it is comfortable, fashionable, and never goes out of style. There's no need to worry if you can't choose the ideal saree. Simply choose one that is easy to drape and can be worn multiple times.
Anarkali 
Put a Dress and Twirl on your office corridor and think of it as a ramp to walk. With a super-fun and comfy traditional Anarkali kurta for women or Anarkali dresses with a casual elegance that is ankle-length, you can adopt the persona of an indie diva. This is a welcome variation from all-ethnic wear. Previously, it was a special occasion outfit. However, the introduction of minimal cotton Anarkali Kurtis has allowed us to incorporate them into our workwear wardrobe.
Dupatta
Dupatta may appear to be a straightforward article of clothing. However, the impact it has on your appearance is magic. A printed dress can be worn with a plain dupatta and vice versa. There are numerous fabrics available for you to pick from, including silk, cotton, georgette, chiffon, and more. In addition to Kurtis, a dupatta looks great with a long skirt and a plain T-shirt. However, to keep things simple yet attractive at work, you need the appropriate colours and patterns to chop and change.
Concluding Thought
It's time to start putting those ethnic pieces together now. They can make the ideal business attire. Remember to include your favourite lipstick and oxidized silver jewellery to complement your formal business dress. Ethnic is the new contemporary!
So, why wear boring clothes when you can add some flair to fashion? Ethnic clothing has always been a fashionable idea. Play by your own rules. For example, combine Indian and Western clothing to create distinctive styles. Prepare to adopt these easy-to-follow stylistic suggestions that leave a lasting impact.