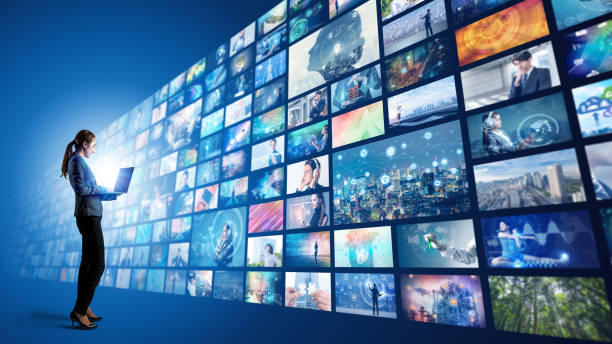 Curved screens are therefore in full development. The solutions are diversifying to offer screens of all shapes, whatever the curvature.  The screen thus becomes not only a communication tool but also a design element. At the same time, the curved screen market is larger and includes new sectors.  Television sets, control rooms, stages or even the cinema are interested in it. Not to mention the solutions for individuals who proliferate with televisions or even gaming screens.
Above all, what plays in favor of these screens is the search for ever more immersive and unconstrained solutions. This is why we see the appearance of spheres of LED screens with a central viewer. The giant curved LED screen thus transports the viewer elsewhere at 360°.
LED screens now offer great freedom of realization.  As a manufacturer of giant SMD Screens, we would be happy to advise you on your project.
FOR A MORE IMMERSIVE EXPERIENCE
This optimization of the field of vision has the main mission of improving the visual experience. Thanks to this the curved screen will offer a much more immersive experience to the viewer. As the screen will occupy a larger part of the viewer's field of vision, the viewing angle of the image will appear larger. This increased depth of field generated will allow him to better immerse himself in the visual. Indeed, this sense of depth will accentuate the 3-dimensional feel of the displayed image.
This feeling of immersion is all the more possible with a giant curved LED screen. Indeed, one of the major advantages of LED screens is their absence of size and shape limits. It is thus possible to create larger format screens to display visuals on a human scale and create more complete immersion. In addition, they also have the advantage of offering deeper contrasts and more nuanced colors for an even more realistic image.
HOW MUCH CAN AN ADVERTISING SCREEN BRING IN
Contrary to what one might think, advertising screen management is not reserved for advertising agencies. Each individual or company can decide to install a giant communication screen if the location allows it. It is also an ideal solution to make a quality location profitable. Indeed, with good management, the marketing of advertising space can generate many benefits. This is all the more true as this activity requires little management time.
THE QUALITY OF THE LOCATION IS DECISIVE
An advertising screen has many advantages in terms of visibility. However, this is not everything. It is highly dependent on where it is installed. Indeed, to attract attention, there must be a passage in front of the screen. A screen with a large passage or with a long reading time will attract advertisers more easily. 
This quality of visibility will also be a major commercial argument for the rental of future advertising space. To analyze the quality of a site, several elements must be taken into account. First of all, we analyze the type of passage  (vehicle, pedestrian), then the distance and the axis of visibility. 
Finally, we study the time of visibility as a function of the speed of passage. In the case of road traffic, traffic lights or roundabouts which can generate slowdowns are also assets for a location.
read more: Upcoming Technology Trends in Internet of Things (IoT)