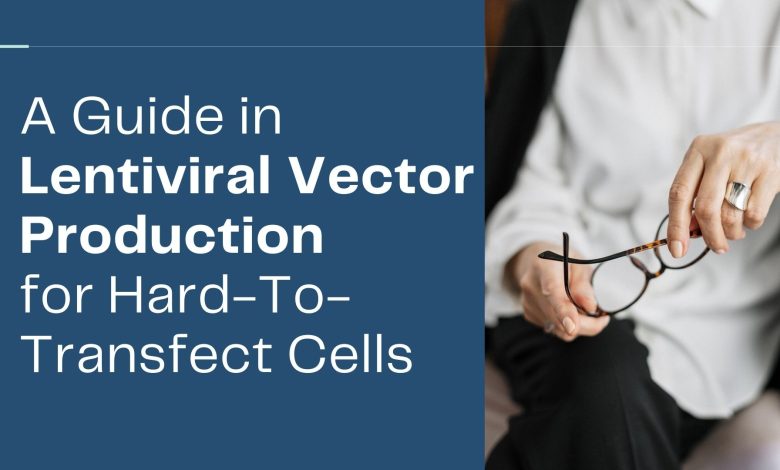 Lentiviral Vector Production: Quality treatment spins around altering hereditary cosmetics by embedding unfamiliar nucleic acids into designated cells. By means of quality conveyance strategies to treat a specific illness. While the qualities designated assume a key part in quality treatment. The quality conveyance framework involved is likewise of most extreme significance as it decides the progress of quality treatment.
As essential cells and undifferentiated organisms are regularly the objective cells for quality treatment in clinical preliminaries, the conveyance framework would should be strong, and viral-based passages, for example, GMP lentiviral vectors work best at moving the transgene into the cells. Nonetheless, even inside lentiviral vectors, a few boundaries can influence the usefulness of the conveyance framework. Utilizing cardiovascular determined c-unit communicating cells (CCs) as a model framework. This study plans to upgrade lentiviral creation by examining different trial factors, for example. The age of the lentiviral framework, focus strategy, and sort of determination marker.
Our CAR-T Discovery showed that the second era framework with pCMV-dR8.2 dvpr as the bundling plasmid delivered a 7.3-crease better return of lentiviral creation contrasted with psPAX2. Concentrating the infection with ultracentrifuge delivered a higher viral titer at more prominent than 5 × 105 irresistible unit values/ml (IFU/ml). Also, in conclusion. The base inhibitory focus (MIC) of puromycin determination marker was 10 μg/mL and 7 μg/mL for HEK293T and CCs. Exhibiting the appropriateness of anti-infection choice for all cell types. This uplifting information can extrapolate and applied to other challenging to-transfect cells, like various kinds of undifferentiated organisms or essential cells.
Lentivirus Production for Cell and Gene Therapy
To smooth out your change from exploration to clinical scale, we presently offer a total suspension lentiviral vector creation framework that produces high titers (more prominent than 1 x 108 TU/mL unconcentrated). A smooth increase from research grade lentiviral vector creation to clinical creation is fundamental.
To speed up your advancement courses of events and facilitate the progress, we offer corresponding exploration grade and GMP answers for ONE complete arrangement from research through clinical and business creation.
Increase with certainty
As more cell and quality treatments go into the clinical and business space, there is an arising need for more financially savvy and versatile viral vector fabricating stages, for example, lentiviral vector creation.
As the world forerunner in serving science, GenScript ProBio conveys inventive answers for speed up the improvement of lentivirus creation. To assist with propelling the field of cell and quality treatment. With arrangements that length the whole LV work process, we give great items and ability to assist organizations with creating advancement cell and quality treatments.
The LV-MAX Lentiviral Production System intend to help hearty lentiviral creation in an assortment of suspension culture vessels. You can increase or down in light of your requirements for more noteworthy throughput right off the bat in disclosure or for consistent and productive clinical scale-up while keeping up with high return in a without serum framework (Figure 1). Notwithstanding scale, you can deliver with more certainty.
The lentiviral still up in the air by transducing HT1080 cells and examining GFP-positive cells. Investigation of information showed no factual importance between titers among the different creation designs.
GMP banked HEK 293 cells for viral vector creation
CTS Viral Production Cells got from the human undeveloped kidney (HEK) 293 cell line and adjusted to suspension culture in a synthetically characterized medium. These phones created to help cell and quality treatment applications, especially plan for viral vector fabricating. To conform to late FDA CMC direction for Human Gene Therapy INDs, CTS Viral Production Cells don't contain SV40 enormous T antigen nor they design hereditarily.
To conform to late FDA CMC direction for Human Gene Therapy INDs, CTS Viral Production Cells don't contain SV40 enormous T antigen nor have they been hereditarily designed. With itemized cell line ancestry documentation and broad quality control testing, you can consistently move these GMP cells to clinical creation.
These cells are upgraded to culture in suspension with the CTS LV-MAX Production Medium.
Completely reported cGMP-banked cell line (HEK 293F determined) with point by point cell line heredity history
Nonappearance of SV40 huge T antigen
Upholds >10 million cells/mL in synthetically characterized medium