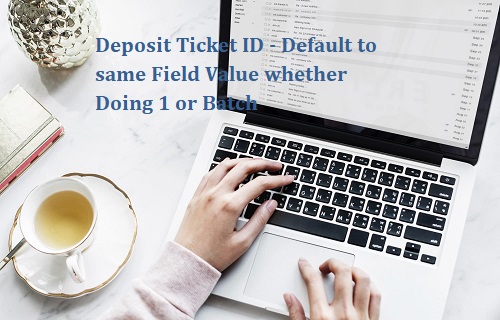 While first opening the screen, the cursor starts in the Deposit Ticket ID field, but while posting more than one installment, the cursor rests at Customer ID, compelling the information enterer to one or the other snap or shift tab back to the store id field. If it's not too much trouble, make a choice to default to or revise the request for the fields to fit client needs.
Enter Bank Deposits and Print Deposit Tickets
To pick receipts that you need to remember for a bank store, follow these means.
From the Tasks menu, pick Select for Deposit. Sage 50 shows the Select for Deposit window.
All receipts related with the presently chosen general record cash account that have no store ticket IDs at first show up in the rundown.
Either acknowledge the money account or select another record ID starting from the drop list.
The Deposit Ticket Date field shows the ongoing framework date; this is the date that will print on the store ticket. In the event that you believe another date should show up, change the date utilizing the Calendar button.
Find -: Sage Error 40036
To enter another bank store, select which receipts (that right now don't have store ticket IDs) you need remembered for the ongoing money account store.
For each receipt you need to store, select the Deposit really look at box.
Enter or acknowledge the presently recommended store ticket ID.
Go on with Step 6.
To alter or print a current store, click Open.
Existing stores incorporate receipts that as of now have a store ticket ID related with them. Assuming the receipt had been placed (in the Receive Money window) with a store ticket ID, that ID shows up in the Deposit Ticket ID field. You can change this to any alphanumeric number.
To print the store ticket, be certain a store ticket structure is embedded in your printer, and afterward click Print. Follow the headings under Print a Form from a Task Window. In the event that you are not ready to print the store ticket, make sure to save the exchange.
Goal
Choice I: In Receipts
Go to Tasks, Receive Money (File, Receipts in Sage 50 2013 and more established)
Enter a store ticket ID in the Deposit ticket ID field
Enter the Customer ID, Reference, Date, Payment technique, and the Amounts or Invoices being paid.
Any receipts entered with a similar Deposit ticket ID will be gathered on the Account Reconciliation window
Find Also-: Sage 50 Journal Entries not Showing Up in Account 
Choice II: In Select for Deposits
Go to Tasks, Select for Deposits
Confirm the right record is chosen in the Account ID field
Confirm the Deposit Ticket Date
Enter the Deposit Ticket ID
Place a mark close to every exchange that will set aside up this Installment Ticket
Note: If a store ticket ID was relegated at the time the receipt was placed then the receipt won't show up in this rundown
Click Save
To set the default conduct for allotting store ticket IDs:
Go to Maintain, Default Information, Customers
Select the Pay Methods tab
The Assign Deposit Ticket IDs area select which technique you need to use to allot store ticket IDs
In Receipts will naturally enter the ongoing date in the Deposit ticket ID field when a receipt is made
In Select for Deposits will leave the store ticket ID field on a receipt clear so it tends to be physically doled out following the means in Options I or relegated following the means in Option II
Find Also-:How to create and use repetitive invoices in the accounts payable module