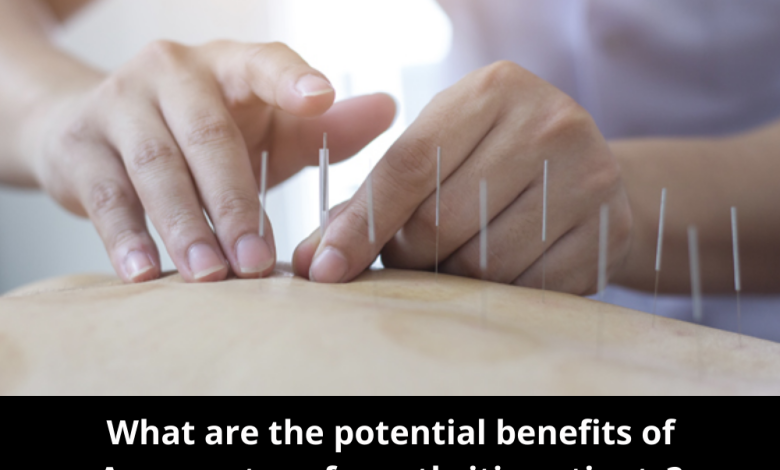 Let's know about Acupuncture today. You can't walk easily when your knee aches day after day. Climbing and descending stairs are difficult. You have to get up in the middle of the night because of pain, and it constantly stays on your mind.
The common reason for chronic knee discomfort is arthritis. It produces inflammation, stiffness, and pain, making it difficult to flex and extend your knee.
Doctors around the country are attempting to avoid prescription medication for chronic pain, particularly opioids. You may have heard of treatment modalities like Acupuncture for treating arthritis symptoms.
Studies have shown Acupuncture to be a cost-effective approach to alleviate pain with low danger to the patient. Acupuncture is one of the best treatments for knee pain patients.
What is Arthritis? 
It is a condition in which the joints become inflamed. It might affect a single joint or many joints. There are roughly one hundred different types of arthritis, each with its own set of causes and treatment options. Arthritis symptoms appear to grow over time, but they can occasionally come unexpectedly.
Arthritis is most frequent in adults over 55, but it can also affect children, teenagers, and younger adults. Physical activity has a beneficial effect on arthritis and can help with pain, function, and mental health. There are plenty of factors that can lead to  development of arthritis.
Treatment aims to alleviate pain, reduce joint deterioration, and improve or maintain quality of life. It entails using drugs, physical therapies, patient education, and support to relieve arthritis pain.
Following are the symptoms of arthritis;
Stiffness.

Pain. 

Swelling.

Redness.

Decreased range of motion.
What is Acupuncture? 
Acupuncture is a generally safe treatment option for various ailments, including joint discomfort and inflammation. It entails inserting hair-thin needles into the body at certain sites to assist the body in reestablishing internal balance. 
Acupuncture is the most important modality in Chinese medicine, a comprehensive type of medicine based on at least 2,200 years of practical experience. In many places in Canada, Chinese medicine is a licensed professional who can help with various ailments. It includes a variety of treatments, including herbs, moxibustion, and Acupuncture.
What can you expect from the first visit to an acupuncturist?
An initial consultation will precede your first visit to a skilled acupuncture in Calgary practitioner. This normally takes 20-30 minutes and includes extensive questions about your health, including physical pain, discomfort, sleep, digestion, elimination, mental concentration, and emotions.
The patient's medical history, including surgeries, severe illnesses, and drugs, is also discussed. The practitioner communicates a diagnosis, which includes an explanation of the causes of sickness from a Chinese medicine perspective.
Once treatment begins, the practitioner may use 5-20 pins (acupuncture needles) at various places throughout the brain and body to address the acute condition, a systemic pattern of disease, or both. Moxibustion can be useful before, after, or in conjunction with the acupuncture phase of the therapy. The actual treatment usually lasts one hour; however, this can vary.
Effective acupuncture treatment for arthritis patients. 
Acupuncture is a popular treatment option for arthritis. It can be useful to treat a variety of arthritis conditions. According to research, it has proven to be beneficial to various people and is regarded as one of the most effective arthritis treatments. Acupuncture is a better long-term treatment for arthritis than some medicines. 
Acupuncture has been demonstrated to be useful in treating pain from arthritis, runner's knee sprains and strains studies and research. It also helps with the pain while waiting for medical intervention, and it can sometimes eliminate the need for surgery. Acupuncture is the lasting solution for alleviation if you suffer from knee pain, stiffness, or swelling.
Potential advantages of Acupuncture in treating arthritis. 
Acupuncture and moxibustion are often useful to treat pain, inflammation, and movement difficulties. Another potential benefit is the prevention of joint deformation, albeit Acupuncture cannot reverse the effects of a deformed joint.
Acupuncture and Chinese medicine can also help with obesity, low energy, and a lack of or excessive appetite, all of which can affect a person's capacity to manage their arthritis. Acupuncture to manage arthritic symptoms has shown encouraging outcomes in research studies. Yet, limitations in study design and sample size suggest that further research is necessary to understand better the influence of Acupuncture on arthritis pain and inflammation.
Acupuncture is conditionally recommended for persons with arthritis based on existing evidence and because it has a low risk of harm. When used in conjunction with an arthritis treatment plan, Acupuncture can reduce pain and enhance the quality of life.
Pain reduction. 
Acupuncture promotes the flow of blood to the damaged area. Blood has healing characteristics such as platelets and red blood cells, which help the body recover more quickly. When these are elevated during blood flow, toxins and fluid accumulation are removed, and inflammation is reduced. This is the best therapy for arthritis because it reduces inflammation and edema, which leads to less pain.
Releases neurotransmitters. 
Hormones provide messages that control various nerve terminals' on and off mechanisms. As a natural pain reliever, it produces endorphins and serotonin. Acupuncture-induced natural pain relievers may be more powerful than morphine. You obtain natural pain alleviation and inflammation reduction without the negative side effects of medications.
Triggers electromagnetic impulses in the body. 
These impulses can speed up the body's pain-handling mechanisms, such as releasing endorphins. The best treatment is Acupuncture, which lowers trigger points in the muscles around the knee.
When muscles get tight, they become sore and achy and restrict movement in a specific location. These trigger points can be released with Acupuncture instead of pharmaceutical injections. This is a natural way to relax tense muscles around hurting joints and trigger points.
Conclusion
Arthritis is frequently caused by everyday wear and tear. However, if you experience unexplained joint discomfort in your knees, you should consult a doctor, especially if it doesn't go away after a few days.
Early and accurate diagnosis can assist you treat the cause of your discomfort effectively and help leverage the benefits of acupuncture. Your acupuncturist can help you reduce your arthritis pain quickly with the right treatment plan. Also, you can read about how to m make good friends.