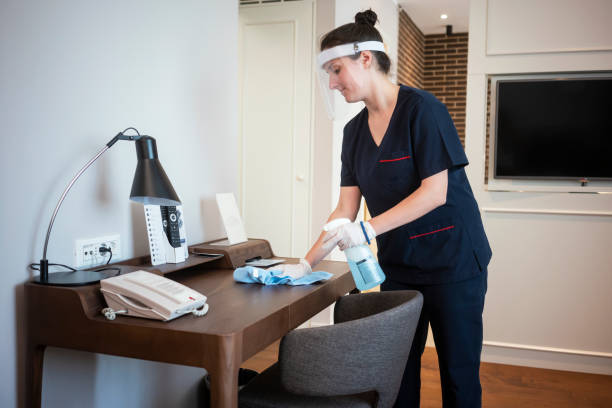 We at SCS Group have always worked alongside hotel managers and have witnessed step by step the change that has led this work to become, over the years, more and more complex.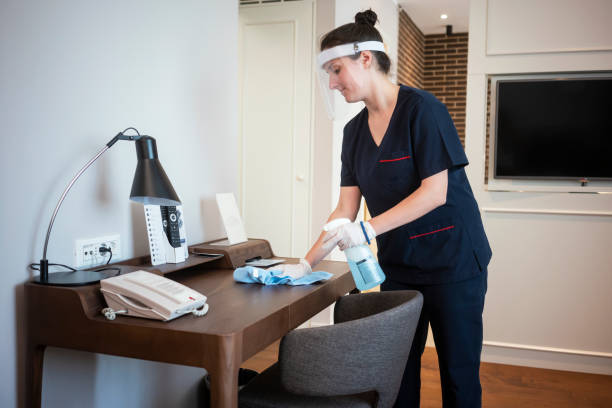 Those who manage a hotel would like to be able to deal only with what is most important to them, the full satisfaction of their guests. But often find themselves overwhelmed by tasks and obligations that waste time and lead to intolerable stressful situations.
Thinking about the cleaning of hotel rooms and how every single step of this meticulous job works are tasks to be entrusted to a specialized cleaning company, if you want to obtain excellent results without having problems.
High standards are required for hotel cleaning
Cleaning hotel rooms is a very delicate activity and must be carried out with the utmost care, because it is precisely from this that customers evaluate the level of the accommodation facility.
We know that guests in a hotel room immediately focus their attention on the most intimate areas (for example, the pillow or bathroom fixtures) and therefore, when cleaning, details should not be overlooked, not even the smallest ones.  
What hotel jobs are there in the housekeeping department?
Cleaning teams can vary greatly depending on the size of the hotel. Small boutique hotels may only have a handful of room attendants, while giant resorts may have hundreds of housekeeping team members. The huge MGM Grand in Las Vegas has almost 400 room attendees working! But room attendants are only part of the housekeeping department. The entire team may include several sub-departments, each with different responsibilities and areas of expertise.
Guests today are much more demanding than they were a few decades ago. For this reason, the staff of a serious cleaning company must be able to carry out a perfect sanitization of every corner of the room and must rearrange everything according to the strict quality standards dictated by the hotel manager.
Staff training is of fundamental importance when you want to provide high-quality services; therefore, all operators sent by the company to work in accommodation facilities must have completed courses and passed coaching periods.
The perfect cleanliness of the rooms is not enough to have an impeccable hotel
The cleaning of the hotel rooms is very important, but certainly the other areas where employees and customers pass or stay for a long time cannot be neglected.
A good hotel cleaning service must include:
Cleaning of the hall, the first space that the guest sees upon entering;

Cleansing of the breakfast area, bar and restaurant, at agreed times and times;

Disinfect and maintenance of open spaces (terraces, squares, gardens);

Cleaning of windows and windows.
The costs of the cleaning service of the hotel
Is it possible to get a quality cleaning service for your hotel at a fair cost? We at SCS Group answer: yes.
Yes, because we tailor the service to each customer. Large or small-sized structures, with many or few rooms, luxury or family-run, will count on an efficient service. We offer a tailored service to individual needs to create a lasting memory of the experience.
Yes, because we use professional machinery and use the most modern techniques to clean and sanitize many surfaces and materials (marble, carpet, parquet, ceramic, plastic, wood, glass).
Yes, because we are the first 100% certified Australian company.  If we don't satisfy one of our customers with the service we offer we will repeat it for free until we reach a satisfactory result.
Read more: How do job boards assist you in locating candidates?