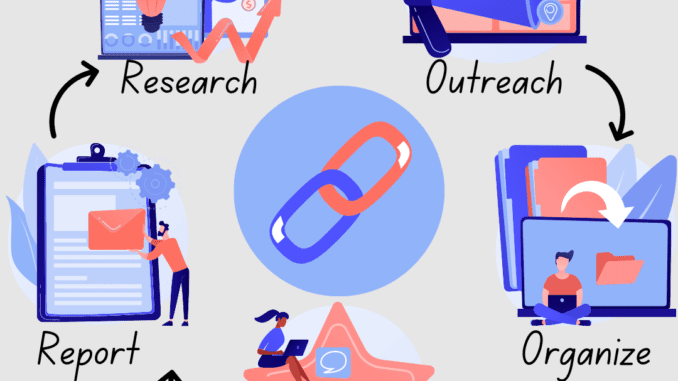 Introduction:
Link building outreach is one of the best tactic to Increase your website's visibility on Google and promote your business online and attract more visitors. Search engine optimization (SEO) often includes link-building outreach as one of its many tactics. Blogger outreach is another name for link-building outreach, although they both imply the same thing.
Promoting your company or brand online through digital PR outreach and it helps you reach a wider audience and, in turn, more prospective consumers.
Process Of Link Building Outreach:
Whether you're interested in outreach for digital PR or link development, you'll find that the processes are similar. For those who aren't aware of how digital PR and link-building outreach often works, here's how it goes:
You want to spread the word about what you're selling, maybe it's a piece of writing, an entire website, or maybe a product or service you want to acquire some attention for.
Prospecting entails looking for potential new clients by identifying and connecting with established businesses and organizations.
Locate appropriate website contacts for each of these sites.

Second, collect and verify the email addresses of important contacts.

Create a series of emails specific to your contacts and send them.
Moreover, to acquire your link, newspaper attention, etc., you must respond to any favorable answers you receive and keep the dialogue continuing.
Expertise in Technology
One cannot succeed in search engine optimization (SEO) without a solid foundational understanding of how search engines function. In addition, you'll need the skills to utilize a link-building outreach tool effectively.
1. An Understanding of Social Media
Since your link-building outreach tool likely scours social media in search of contact information, you'll require social media savvy. It's a good idea to get to know influencers on social media before you approach them for a link.
2. Imaginative Capacity
Using a search engine to locate influencers and craft emails that will get read and acted upon requires some imagination. You'll need it to compose guest post proposals and SEO material and build anchor text that flows with the writing if you're trying to reach out to bloggers.
3. Adaptability
You'll need the flexibility to deal with the wide variety of people and websites you'll come across and the frequent updates made by search engine algorithms.
4. Determination and Resilience
Building trust in a website's niche requires time. It takes time for people to read emails and for search engines to scan websites. In link building, tenacity implies not giving up until you get results.
5. Capabilities in Interpersonal Relationships
Although it may seem like it from the outside, link creation is not a simple game of quantity. You'll be talking to actual individuals, people with hectic schedules who you're hoping will take action and provide a backlink for you. Constantly ask yourself what they stand to gain. The line between annoying and interesting is thin; walk the latter.
Methodology of Link-Building Outreach
Here are the important of components productive link-building outreach strategy:
Look for people with a lot of influence who will likely connect to your article.

Find out their email address.

Be specific in your pitch.

Discover Key Opinion Leaders
People or companies with a large online fan base are called "influencers." Their adherents have come to trust them and be devoted to them. Your site's credibility and viewership will increase after receiving a backlink from a popular figure's page.
Using a broken link or a mention that doesn't have a backlink is the quickest approach to discovering influential people who are likely to give you a link. This group knows who you are, so getting them to respond to your requests should be simple. If you are a beginner to link building outreach, it's hard to find the perfect bloggers and outreach them. In that case, you can visit jetranks.com to get backlinks by using organic manual blogger outreach. 
Find Influencers
Finding more influential people who could link back to your site can be done manually or automatically with a link-building outreach tool. Find niche influencers the old-fashioned way by:
Create an alert on Google for the relevant terms. Look for discussion groups where people discuss this topic to see if they have any answers.
Discover the key opinion leaders who are endorsing your rivals. An effective method for broadening your search is to look in sectors irrelevant to the products or services you're offering. Competitors in other fields may not even be aware of the importance of influencer marketing.
It's important to remember that a few high-quality connections can outperform many low-quality ones. Therefore, objectively assess the influencers and the website by considering:
Quantity of their fan base

The proportion of their followers who actively participate

Both their page and domain authority are quite high.
Find Email Address
Finding email addresses by hand is tedious, but numerous useful programs, such as Hunter and Voila Norbert, can do the searching for you. Email addresses are a common target for link-building outreach tools.
If you need to locate an email address manually, you may choose to begin your search on LinkedIn. Find their contact details on their website or social media page. Use a personal email address for the best results.
Please Submit a Tailored Proposal
Your outreach for backlinks will fail miserably if you use a dull, generic email. You can utilize email templates, but it's best to make numerous unique and interesting variations on your own. Split testing is a feature you'll want access to.
Although, Introduce yourself by name and use a brief, descriptive subject line. Sending an email to Info or Webmaster will be ignored. Communicate your needs to the people you're communicating with. Provide the precise URL and a word-for-word citation of the relevant content if you need them to replace a broken link or introduce a new one. Use comedy or bring up a shared interest, but keep it short. Try to limit yourself to less than 80 words in the email.